Professional Truck Components and Systems Design.
Durable Chassis, Powertrain, Suspension and Steering Designs for Heavy Trucks. The Vector Team Has Been Providing Proven and Reliable Truck Design Since 2004.
Call us at: (250) 870-3022
Marlin Toews
Owner, P.Eng.
Owner of Vector Truck Designs Inc. with 29 years of design experience in the trucking industry. Marlin's expertise focuses on suspensions and steering for single and tandem steers in the specialty vehicles industry. His proficiency also extends to component design and virtual testing of the vehicle chassis. He has a wide range of understanding of powertrain and driveline layouts for all-wheel drive vehicles up to 140,000 lbs. GVWR.
Marlin holds a degree in Mechanical Engineering from University of Alberta, a diploma in Mechanical Engineering of Heavy Truck Systems from University of Michigan, and up-to-date CAD training in Catia, NX, and SolidWorks.
PROVIDING DESIGN SOLUTIONS FOR






Our Services & Capabilities
Vector Truck Designs Inc. is an engineering consulting design company specializing in heavy truck systems and component design. Our team brings over 60 years of combined experience in truck design to the manufacturing industry.
Heavy Truck Design
Our design expertise includes front and rear suspensions, steering systems, driveline layouts, and powertrain installations for rear-wheel drive and all-wheel drive trucks.
Vector has established itself as a reputable design company in the heavy truck and equipment industry. Past and current projects include contracts with Meritor, Hendrickson, Western Star Trucks, Western Star Australia, Allison Transmission, Dana/Spicer, and ZF.
3-D CAD Modeling
Proficient in CATIA, NX and SOLIDWORKS, Vector Truck Designs Inc. models both simple and complex parts including welded assemblies, sheet metal components, and surface modeled cast/molded parts.
Finite Element Analysis
We provide Finite Element Analysis (FEA) utilizing the analysis and simulation tools within Dassault's CATIA.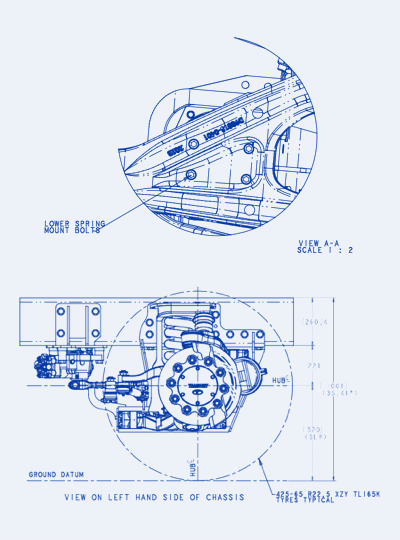 Current & Past Projects
Vector Trucks Designs partners with many companies from around the world. Take a quick look at some of our current and past projects.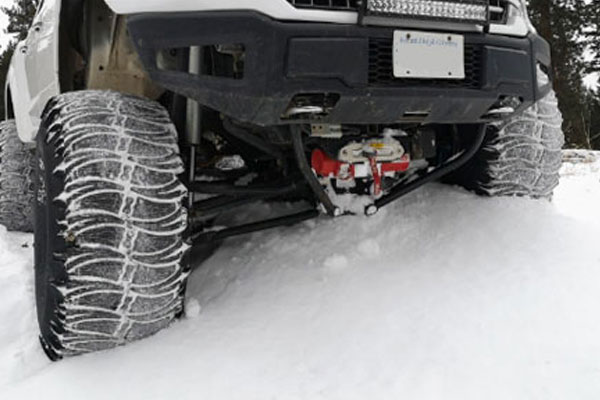 KXI Wildertec
Suspension for RAM 3500 Trucks
Developing a semi active hydropneumatic independent suspension for a RAM 3500 pickup truck. Features high suspension mobility (18+ inches of wheel end travel) for forestry, mining, energy, and utility sectors.
NORTHSIDE INDUSTRIES
Finite Element Analysis for Campion Boat Transom
Designing and performing Finite Element Analysis (FEA) on an aluminum transom being manufactured by Northside Industries. This transom will be integral with the 28′ Muskoka fiberglass boat developed by Campion Boats.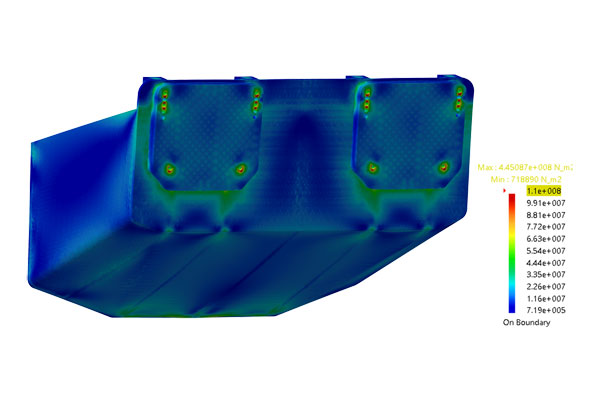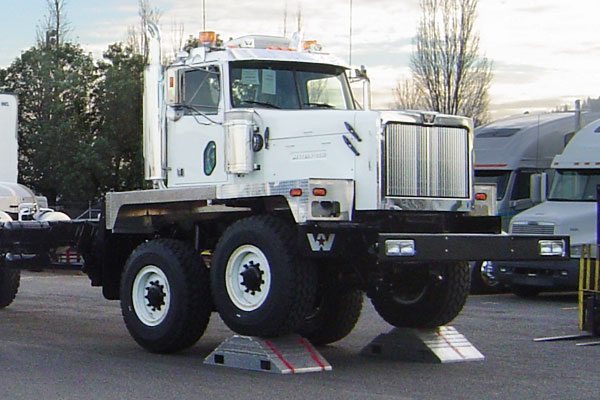 WESTERN STAR
Design & Release of 8×8 Tandem Steer
Complete front-end design and release of the Western Star 69XD 8×8 tandem steer. Included complete suspension and steering design with Sisu FS2P-28G drive steer axles. These rigs work exclusively in the oil patch, often during spring break up, and high on the customer wish list was maximum suspension articulation, increased steering force, and maximum traction. Vector delivered on all three accounts.
Western Star Trucks
We've provided many truck component and system designs to Western Star Trucks. Our focus being suspensions and steering for specialty vehicles.
Western Star Australia
For Western Star Australia, Vector provided complete design, analysis and testing of Freightliner M2 right-hand drive conversion.
Deere Hitachi
We provided design and manufacturing sequencing of the hood assembly for the Deere Hitachi Grizzly excavator.
Deutz
Through an ongoing service relationship with Deutz, Vector provides high-quality photo rendering of engine packages.
Let's Connect to DISCUSS YOUR PROJECT